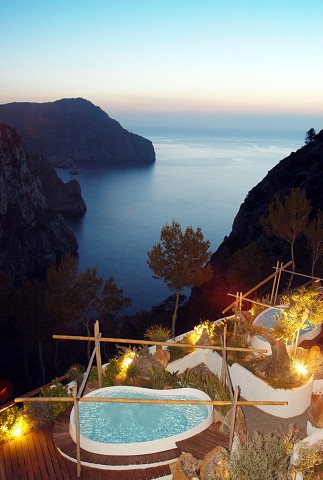 Hacienda Na Xamena, Ibiza
Located on a 7 hectare coastal plot, Hacienda Na Xamena sits 180 meters above sea level on a 2 kilometre stretch of coast amid a Mediterranean pine wood. The area, in the North East of the island of Ibiza, is one of the last unspoiled ecological environments on the European map, and is at the heart of a nature reserve home to some exceptional flora and fauna.
Everything in the hotel has been created to harmonize the facilities with the surrounding natural beauty: streams and waterfalls, patios, porticos, galleries, plant life and traditional whitewashed architecture combining ethnically influenced Arabic decoration. Breathtaking natural views will surprise you from every room: the emerald green sea flecked by the white of breaking waves, wild cliff faces, the immersion in natural beauty and unforgettable sunsets. Hacienda Na Xamena offers all this beauty in a unique and magical setting, only 20 minutes away from the energetic life of Ibiza.
Click here for more images of the Hotel Hacienda
Prices and availability - Can be booked as a package through various UK tour Operators or direct with the hotel who will generally offer the best accommodation only prices through San Miguel Ibiza. - Complete the contact form below for guaranteed best prices at the Hacienda Na Xamena, Ibiza.